We provide a variety of styles to suit different tastes.
NO PINS, NO HASSLE!

The difference between these hijabs is their style. Some have a short flap on the side, some have it longer. Some of these hijabs cover the chest, and some cover the chest and shoulders at the same time. some are short, and some are tight on the neck.
If youre looking for TOTAL chest coverage, you must go for Voila!Maxi or Chic!.
These designs are best selling in East Asia, Iraq, Iran, India, Pakistan and the Maldives.
If you are tall, you might also consider buying Voila Maxi or Chic!
ARE YOU PETITE? DO YOU PREFER SHORT LENGTH HIJABS?

If you are up to 162 cm, and prefer short length hijabs, we suggest you go for Voila!
This design is best selling in the middle east, europe and the US.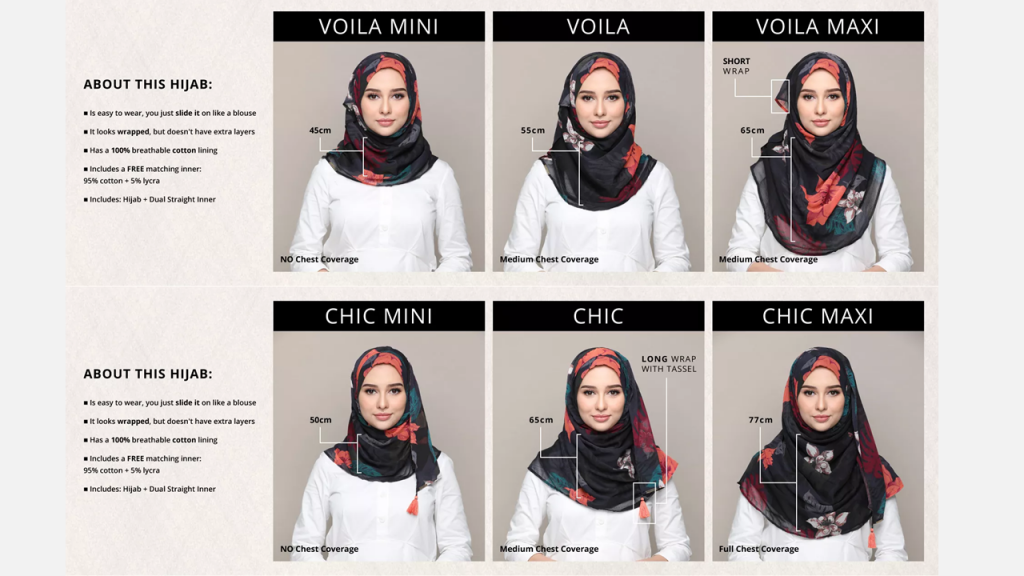 DO YOU PREFER HIJABS WITH VOLUME, OR DO YOU PREFER TO HAVE IT CLOSE TO YOUR SKIN?

VOILA!, VOILA!MAXI, and CHIC! are all volumous hijabs, this design allows air to go through your face and neck.
If you prefer the hijab closer to your skin, then ZAIN and ASAS should be the right choice!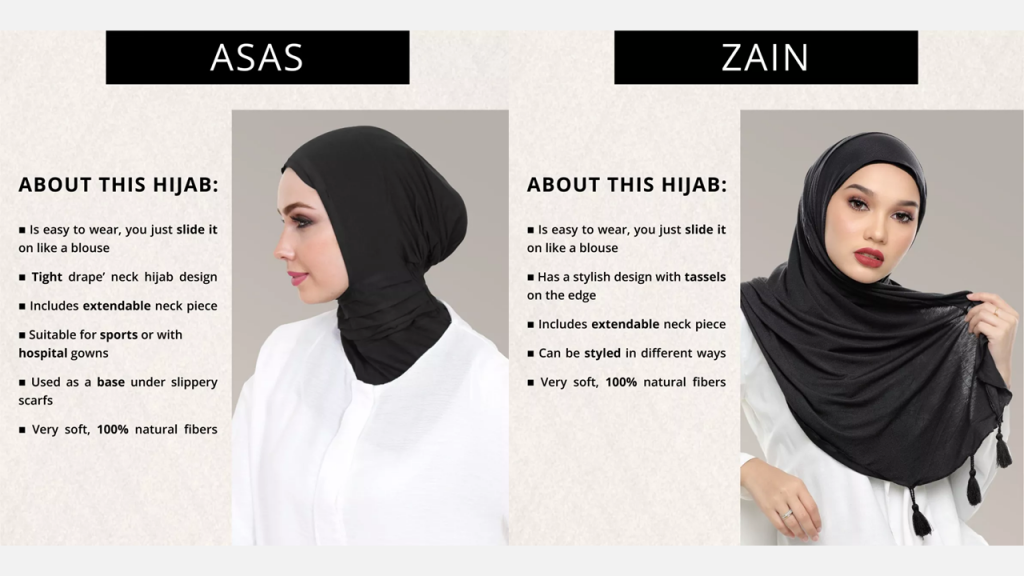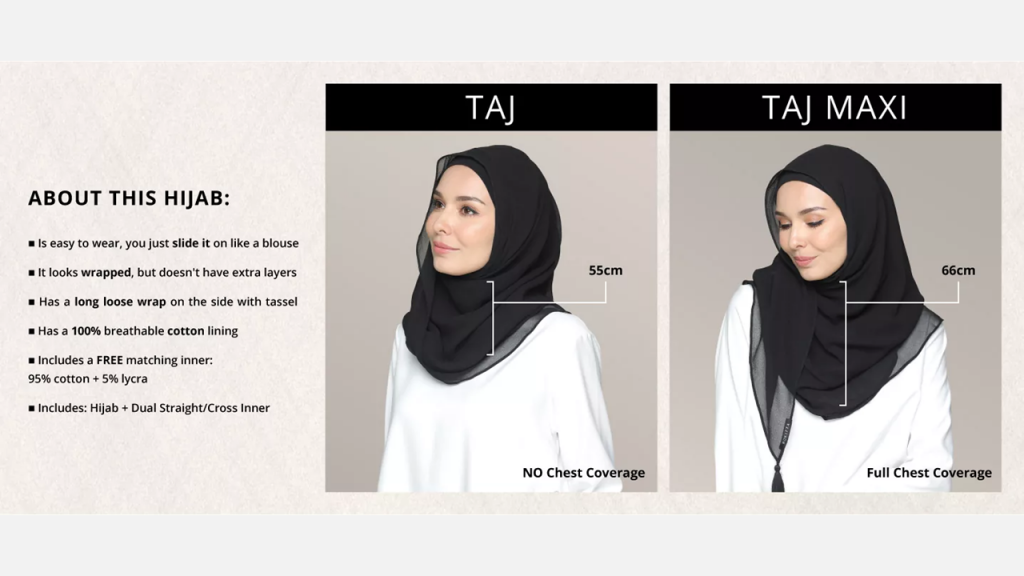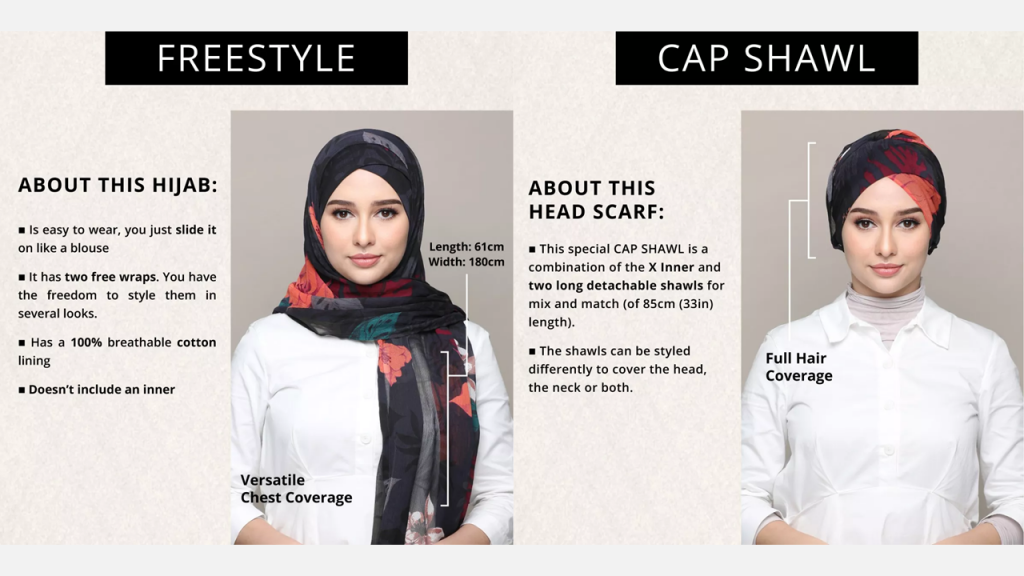 Which Hijab is the right size for me?
Do I need to buy a matching inner?

You should know that all our hijabs:
1) Fit ALL head sizes, because all have an elastic layer under the chin or are made from lycra.
2) All our hijabs include an inner, or dont need one like the Zain / ASAS.
2) All our hijabs have a cotton lining to touch your head scalp, or otherwise made from cotton.
3) All our hijabs are opaque, except for few chiffon light colors might be see through if you dont wear the inner properly to cover all your hair.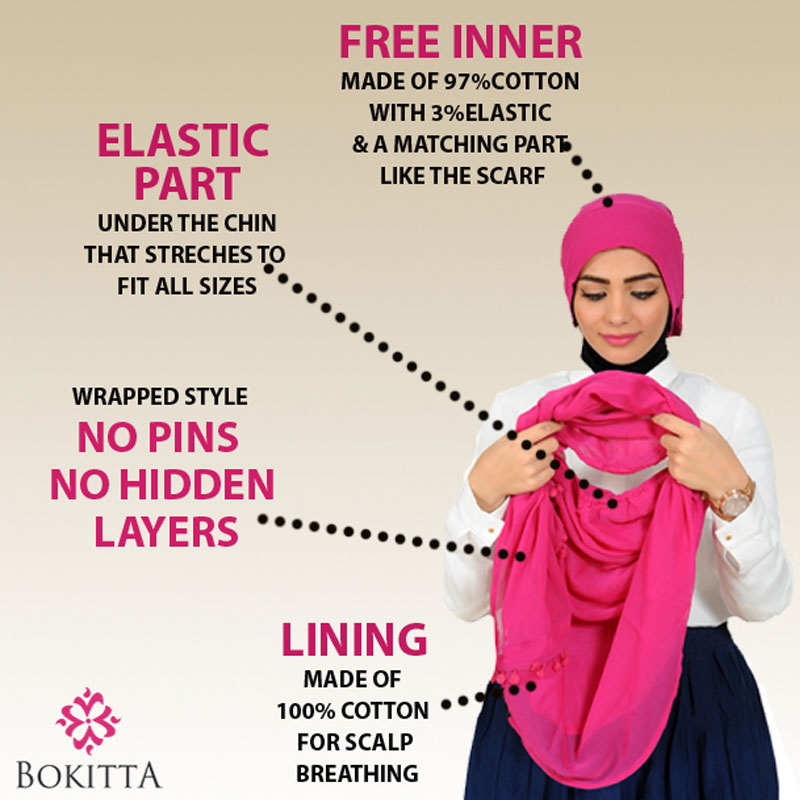 What is the material?

All our hiab materials that are see through, are lined with cotton to make it opaque and ready towear!
1) Chiffon (best-seller): delicate material chosen especially and exclusively for Bokitta to be light weight and breathable.
2) Georgette: Slightly thicker than chiffon, and totally opaque.
3) Viscose: A man-made material made of natural fibers, softer and cooler than cotton; this material requires ironing.
4) Viscose Lycra: This material is very soft and strechy, yet durable and wont get hairy after few washes! It doesnt need much ironing; it is slightly shiner than cotton
5) Chiffon Drape: This is similar to crepe, marked by a firm texture and a dull sheen, it boasts a soft hand and an exceptional drape.

We also provide modest fashion with colors that match our hijab collection.
Standard Clothing Size Chart
| | XS | S | M | L | XL | XXL |
| --- | --- | --- | --- | --- | --- | --- |
| Size | 0-2 | 4-6 | 8-10 | 12-14 | 16 | 18 |
| Bust | 32-33 | 34-35 | 36-37 | 38.5-40 | 42 | 44 |
| Waist | 24-25 | 26-27 | 28-29 | 30.5-32 | 34 | 36 |
| Hip | 34.5-35.5 | 36.5-37.5 | 38.5-39.5 | 41-42.5 | 44.5 | 46 |
Fabric Care
Fabric: 100% Breathable Cotton Voile

Washing instructions:
• Wash different colors seperately
• Hand Wash cold water, 30o C
• Do not Bleach
• Do not Tumble Dry
• Iron